Is Canon Rethinking the Megapixel Race?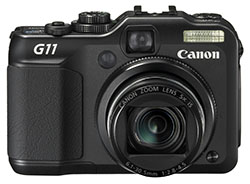 Digital Photography Review has posted details of a press release in which the specs for the new Canon G11 are offered. The G11 is the latest in the series of upper-end compacts cameras. The previous model (the G10) was a bit of a disappointment to many people who wanted this type of camera as a compact addition to their DSLR kit because Canon had opted to cram 15 megapixels on to its tiny sensor. While the high pixel counts can be effective for marketing, it's widely known among enthusiasts and pros alike, that the megapixel race has been a detriment to image quality in certain situations – especially those requiring high ISO due to low-light conditions. I'm pleased to see that Canon is fitting this model with a 10 megapixel sensor, and hope that this is an indication of a new trend to concentrate on output quality and not marketing hype (I'm not holding my breath).
I have sort of fluctuating interest in compacts, and in fact still have an ancient (and very rarely used) G3 model from this series. It will be interesting to see how the images look from the new model. The new Power Shot S90 looks like it could be a fun pocket camera too.
[via Richard Wanderman]
Posted on Wednesday, August 19, 2009 in
Gear
• (0) Comments