"No Hands" Bridge On the American River
My home in Auburn, California is near the American River. Within walking distance of the confluence of the north and middle forks of the river are four bridges: the Foresthill Bridge, which has been used by base-jumpers because of it's great height, and was featured in the action movie xXx; the locally-known "U-shaped" bridge; the Highway 49 bridge; and this old railway bridge called the "No Hands" bridge pictured below. This bridge was built in 1912 and at the time was the longest of its type (a concrete arch bridge) in the world, and the first of this type built in North America. The rails were removed for the steel during World War II. Today the bridge is used only by hikers, trail runners, and horseback riders. Here's a link to a bit of historical information on the charming and durable old bridge.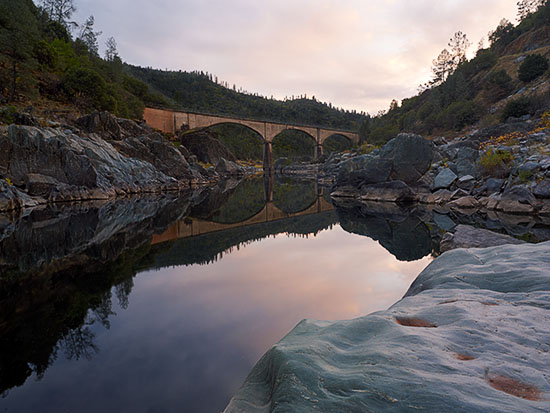 I photographed the bridge in 2005 to produce a black and white image and have wanted to revisit the spot for a color image when the light and skies were more interesting for color photography – and I wanted to shoot it with Phase One/Mamiya medium format equipment. About a week ago we had a day with potential for better light and skies for such a shot. So I headed to the river in the late afternoon, set up to shoot, and waited until the sun had nearly fully set. The view of the bridge and the interesting lines and shapes of the water-polished serpentine make it a pleasant place to hang-out while waiting for the light.
Posted on Sunday, November 15, 2009 in
Ramblings
• (2) Comments