Sometimes a Point & Shoot Camera is Enough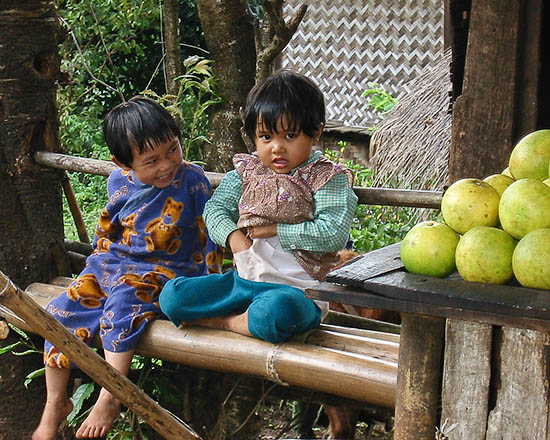 I'll be the first to admit that I love camera gear, including high-end glass, the newest digital backs that I can't afford, and all the high-end goodies. But sometimes a point-and-shoot pocket camera can be the best tool. For one thing, the big gear with their intimidating lens hoods and heavy-duty gadgets can startle some subjects – and not just children. One will often find people in remote parts of the world (and not so remote) who are quite camera shy when it comes to big DSLRs and the like. And of course there's the matter of having the opportunity to grab the shot before the scene changes. Some of my most treasured images were captured with a pocket camera, and while I won't be making large prints from the files, I do enjoy the images every time I look at them.
The image above was taken in Burma (now Myanmar) in a restricted area, several hours by vehicle from Mandalay. These young girls were sitting at their father's road-side fruit stand while he was working inside their house. I bought some tasty oranges from them once their father came out to greet us. The camera used was a compact Canon Digital Elph S300, which is only a 3 megapixel camera. Still enough for an enlarged print of 8x10" (A4) or so. Many of the wonderful people in Burma were shy to the camera and a compact camera really helped to put them at ease. After seeing their image on the LCD many became more comfortable, adults included, and seemed to enjoy having their photos captured and shared.
One drawback (among others) is that the small sensors used in P&S cameras render a very deep depth of field. This can make it very difficult (if not impossible) to blur the background (to isolate the subject) in most shots. Still, scaring young or shy subjects with high-end gear suitable for controlling depth of field will not likely get the results either.
Posted on Monday, August 10, 2009 in
Gear
• (6) Comments