Canon Announces New Digital SLR: EOS 7D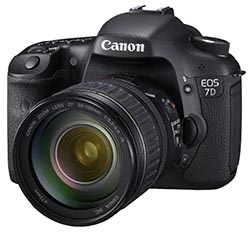 As promised, Canon have formally announced the new 7D DSLR camera body today. Rumors of a new model called the "7D" have been floating around for a couple of years, with the specs mostly indicating a significant upgrade from Canon's 5D model. Well, Canon replaced the 5D with the 5D mark II model in late 2008, which left open to speculation the status of a model labeled the 7D for a future release. Surprisingly, at least some online discussions during recent days have been very accurate with regard to the camera specs as released.
This model is equipped with an APS-C sized sensor, which is the "crop sensor" size used in the 10D thru 50D series. To some of us, it seems strange that the model designation of the 7D, which seems more at home in the 5D area of the line, was used for a camera other than a full-frame sensor equipped body. Marketing often defies logic. It's obvious that Canon wants to position this model above the 50D-type models and below the Series 1 models, placing it into the "mid-level" camp of the 5D/5D mkII. To some, the 7D is designed as a retort to Nikon's D700 and D300s cameras, so the 7D moniker is thought to offer more thrust. It will be interesting to see what Canon decide to do as the 5D mkII model continues to mature. Will it be called the 6D? Or will it be called the "8D"? Time will tell.
The 7D is an 18 mega pixel camera. I know I'm not alone when I say that I would have preferred the body to be fitted with a sensor of lower pixel density. Many feel (myself included) that the high mega pixel densities on smaller sensors give up something in terms of image quality under certain circumstances, but it's obvious that marketing wars play a role in design. Sensor size, pixel density, anti-alias filter, and software all play an important role in image quality. We'll have to wait and see the results to know if Canon have found an appropriate balance in their design.
Significantly, Canon have equipped the 7D with new auto-focus (AF) and metering systems. The newly designed AF system features a 19-point cross-type system which should offer greater accuracy in achieving critical focus. And the new metering system is described as having 63 zones for better metering accuracy. Both are welcome additions if they perform as described.
Specifications are available here, and a hands-on preview is offered here at dpreview.com.
Posted on Monday, August 31, 2009 in
Gear
• (1) Comments